Go to the blog
Sep 15 '23
FASSI Group, through its French holding company CTELM, acquires FOREZ-BENNES Group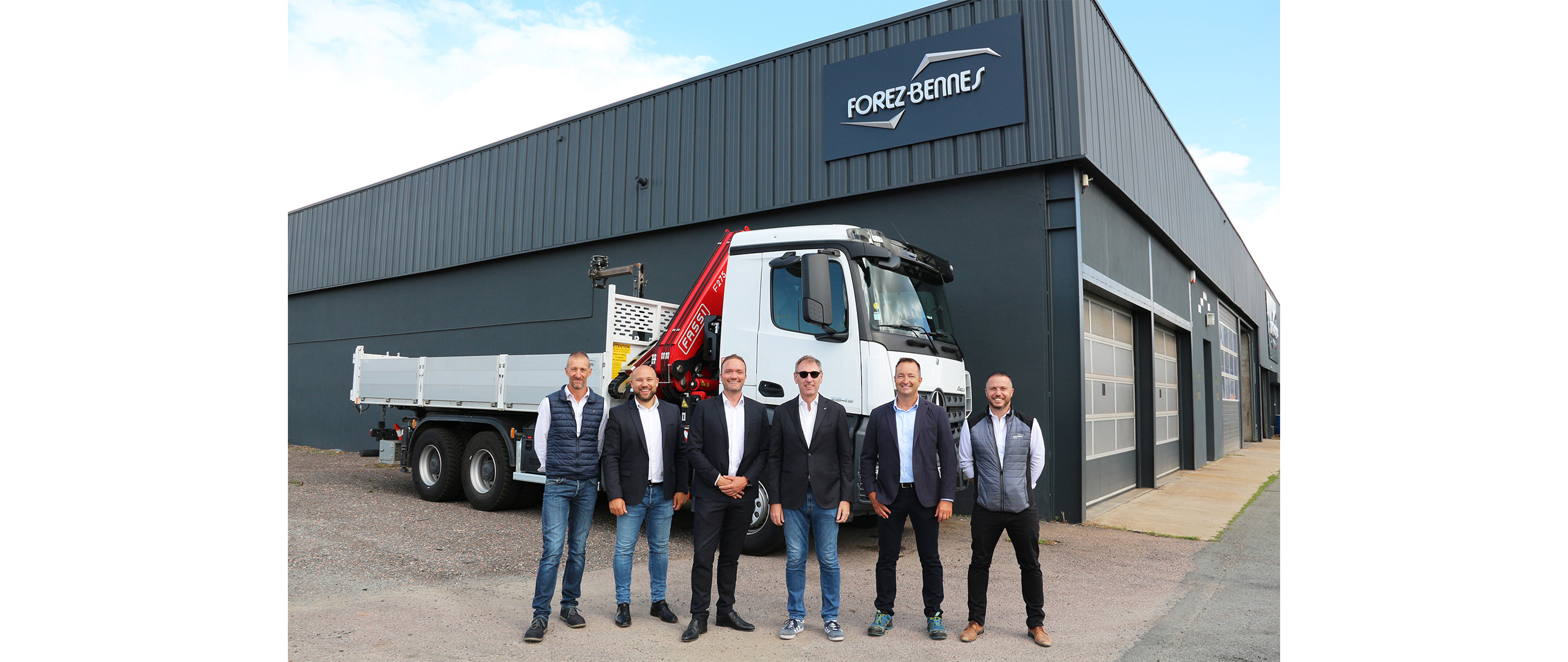 On 2023 August 3rd, the Italian FASSI Group, manufacturer of loader cranes, officialised the acquisition of the FOREZ-BENNES Group. The latter joins the other companies of the Group, i.e. Fassi France (distributor of Fassi and Marrel equipments on the French market), Marrel (Ampliroll® manufacturer) and Miltra Paris Nord, Miltra Provence and Decauville (industrial bodybuilders).
FASSI Group in France: A customer-oriented development strategy
FASSI Group in France, through its holding CTELM, already owns Fassi France and Marrel companies. The acquisition of the FOREZ-BENNES Group completes the offer of the Group in France: the three main truck lifting equipements – i.e. loaders cranes, tipper systems and hydraulic hooklifts – can now be proposed.
Fassi France, specialist in cranes and on-board handling, offers a wide range of products especially designed to meet the needs of professionals involved in different industries (public works, lifting, recycling, forestry…). The company distributes lifting equipments for more than 50 years and is now the unique distributor of Fassi and Marrel equipments on the French market. Fassi France also owns three subsidiaries – Miltra Paris Nord, Miltra Provence and Decauville.
These are industrial bodybuilders based in the Ile-de-France region and in south-eastern France.
Marrel is a designer, manufacturer and assembler of components and hydraulic equipments. Inventor of the Ampliroll® hooklift system in the 70s, the company is now one of the world leader on the market of hydraulic lifting equipment on industrial vehicles. The company has joined the FASSI Group in 2013 and is distributing its products in more than 60 countries thanks to the Fassi worldwide network of partners.
Founded in 1969, Forez-Bennes is designing and manufacturing different types of tipper systems which are known for their strength and stability. Throughout the years, the company has grown and has created several workshops dedicated to bodywork.
The Group owns nowadays 5 industrial sites located in the Auvergne-Rhône-Alpes French region. Its products are distributed in France thanks to a wide network of partners.
Fassi Group in France – Key figures :

New means to carry out a durable and consistent project
The complementarity of the equipments, combined with the know-how and expertise of each company, will lead to strong and real industrial, logistics and commercial synergies.
"Each company will keep its DNA, and these synergies will enable to optimize the skills and know-how of each of them. There will be a few organizational adjustments within the Group so that each company can 100% focus on its own core business". Giovanni FASSI – president of FASSI
The commitment of all teams is a guarantee for success for the Group. Pierre-Jean LAFONT keeps his position as CEO for the Forez-Bennes Group and thus joins the board of the FASSI Group in France alongside with Benoît BOUTONNET (Fassi France CEO) and Arnaud THIEULIN (Marrel CEO). In addition, new investments will be made to support and sustain the activities of the Group in order to be able to be a key player on major call for tenders, both on national and European scales.
(Pictured, from left to right; Mr. Emmanuel Chalencon (Chief Technical Officer (CTO) of Forez-Bennes and Thomazet), Mr. Benoît Boutonnet (Fassi France CEO), Mr. Arnaud Thieulin (Marrel CEO), Mr. Giovanni Fassi (Fassi Group President), Mr. Pierre-Jean Lafont (Forez-Bennes CEO) and Mr. David Schneider (Forez-Bennes Services Manager).