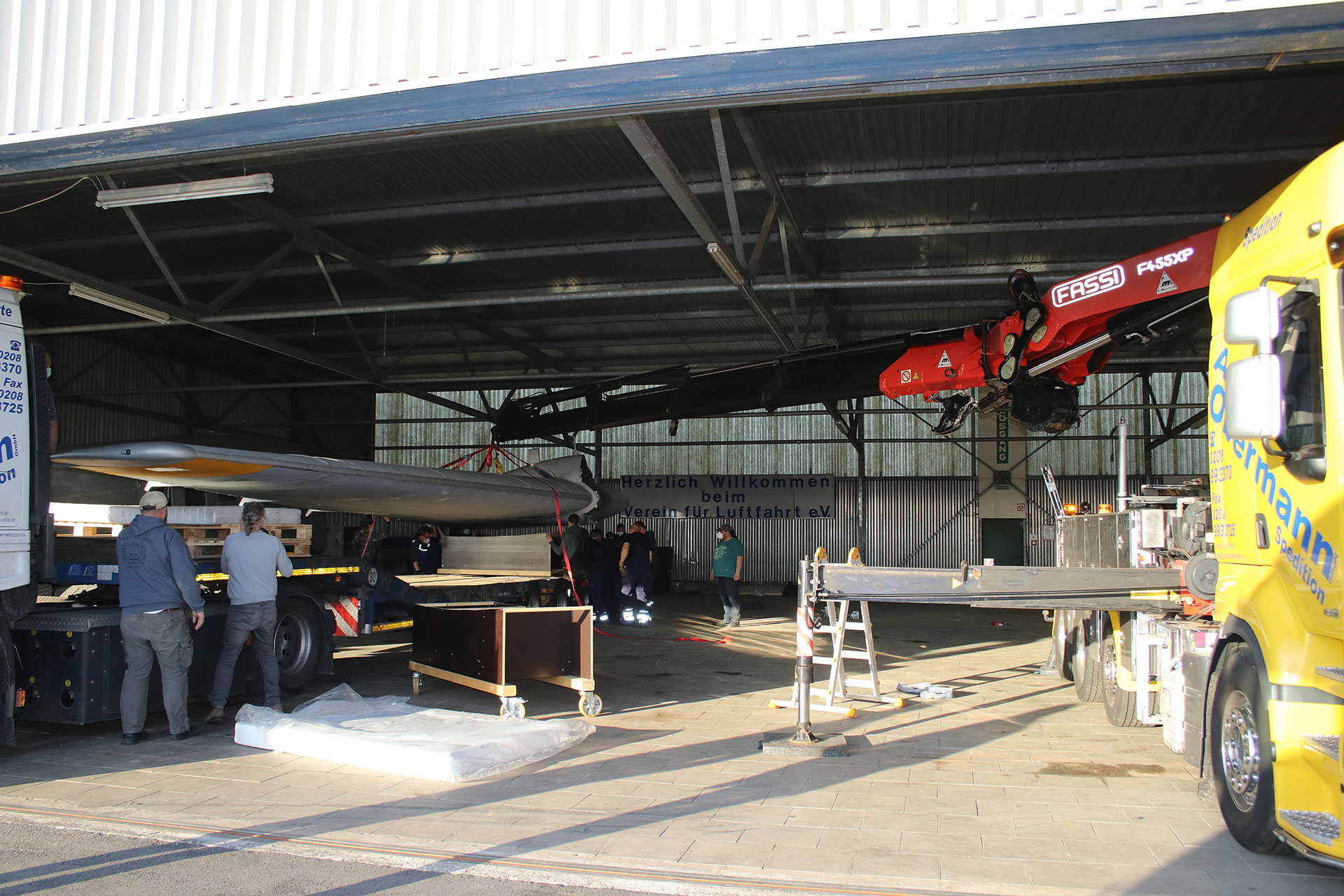 An F455RA crane has come to the rescue of "Aunty JU", the German Junkers aircraft that will soon be celebrating its one hundredth anniversary. Despite no longer being able to fly, the JU 52 remains a symbol of twentieth-century German history and European aviation.
Until a few months ago, the Junkers 52 had its home in the Hugo Junkers Hangar, near to the regional airport of Mönchengladbach. This May, WDL Luftschiffgesellschaft decided to move the aircraft to its headquarters at the airport of Essen-Mühlheim, around fifty kilometres away.
The transportation operation first required the pieces of the aircraft to be dismantled, and then the parts had to be handled, loaded onto a truck and transported to the new destination.
It was in these phases that a fundamental role was played by the F455RA crane, belonging to the German company Auto-Obermann based in Mühlheim and specialised in the hiring of equipment for heavy lifting and transportation.
THE DISMANTLING AND HANDLING OPERATIONS
The aircraft, made mainly from aluminium, was completely dismantled; tail sections, wing flaps, the propeller, chassis parts, pilot seats, engine cowling and the 9-cylinder radial engines.
The handling of the mid-section of the JU 52 and the wings called for the intervention of the Fassi crane.
"Italian Fassi cranes have been proving their worth for our company for many years", explained the Junior Manager Nick Obermann, who for the occasion was driving the 4-axle Renault Premium on which the crane is mounted. "We really appreciate these machines, both for their lifting power and for their versatility".
This power and versatility of the Fassi crane were just what was needed inside the Hugo Junkers Hangar. The first operation concerned the lifting and transportation of the two 3.80 m-wide wings from the hangar to the trailer outside.
The hangar was rather low, and so the crane had to work with a negative approach angle between the lifting arm and the main arm.
The manoeuvres were handled and followed by Obermann himself via the V7 radio controller.
The fuselage, approximately 14 m in length, was first moved outside with an auxiliary frame and then lifted by the crane and positioned onto its own dedicated trailer.
Three semi-trailers were needed to transport the aircraft. Once at the destination, the parts were positioned in the WDL Luftschiffgesellschaft hangar, which was set up for the occasion as a temporary workshop for the reconstruction of "Aunty JU".
"This was a very special task for us", explained Kreutzer, the head of operations who, together with Dirk Obermann, organised transportation. "Practically all the members of the Obermann team knew exactly what the combination of letters and numbers J-U-5-2 meant. However, only a few had seen the aircraft first-hand, let alone in individual pieces!".