Go to the blog
Oct 14 '20
Jekko and its 2000th crane: many happy returns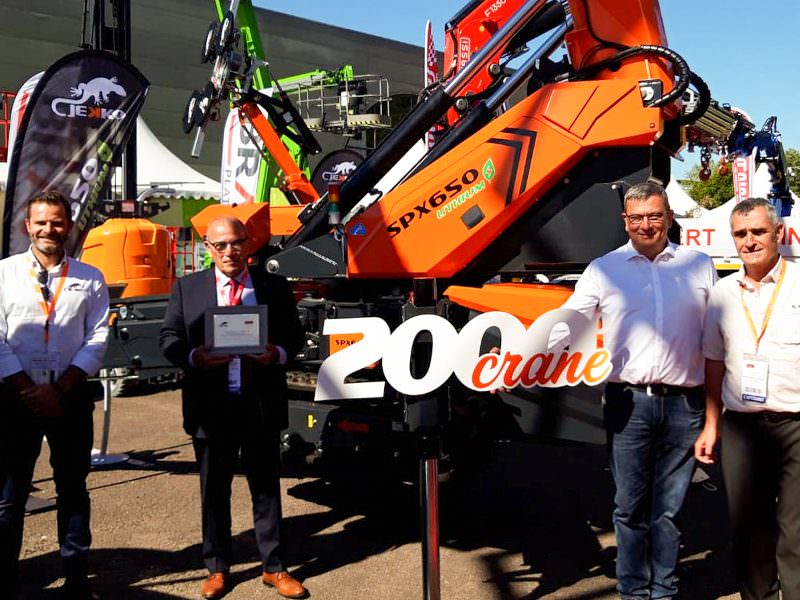 In 2020, a difficult year in many respects, Jekko has reached a double milestone: at the JDL exhibition in France the company delivered its 2000th crane to French dealer ATN Platforms, exactly 20 years after the creation of its first mini crane prototype.
It has been 20 years since Jekko developed the first model of a mini crane in the year 2000. From that moment on, the Treviso-based company has always been investing in new models and new lifting solutions and has been supported and rewarded by growing market interest, allowing the company to gain an important place among the most relevant mini crane producers worldwide.
It is worth mentioning that the 2000th unit is the new SPX650 model, the company's latest machine, launched last July during a live streaming presentation. This mini crane embodies cutting-edge technical solutions and innovations and has already drawn the attention of the experts, promising to become a flagship model of Jekko range.
The 2000th crane was delivered to ATN Platforms, which recently took the place of Fassi France as the new Jekko dealer for the French market. The JDL exhibition was therefore the perfect setting for the symbolic delivery of the machine, sealing a new relationship which has already started in the best way possible.
"We are so glad to have reached this important milestone and delivering our 2000th crane to our French distributor ATN Platforms makes us very proud," Mr. Alberto Franceschini, Jekko Export Manager, commented. "France is one of the most important markets for us and we have been operating there for 13 years, at first together with Miltra, then with Fassi France and now with ATN Platforms. We would like to thank Mr. Roger Boutonnet, ATN Platforms President, and his son Benoit, who first started the cooperation between Miltra and Jekko in 2007, and also Mr. Gilles Cheval and Mr. Frédéric Leclerc. Without their valuable support we wouldn't be where we are today."