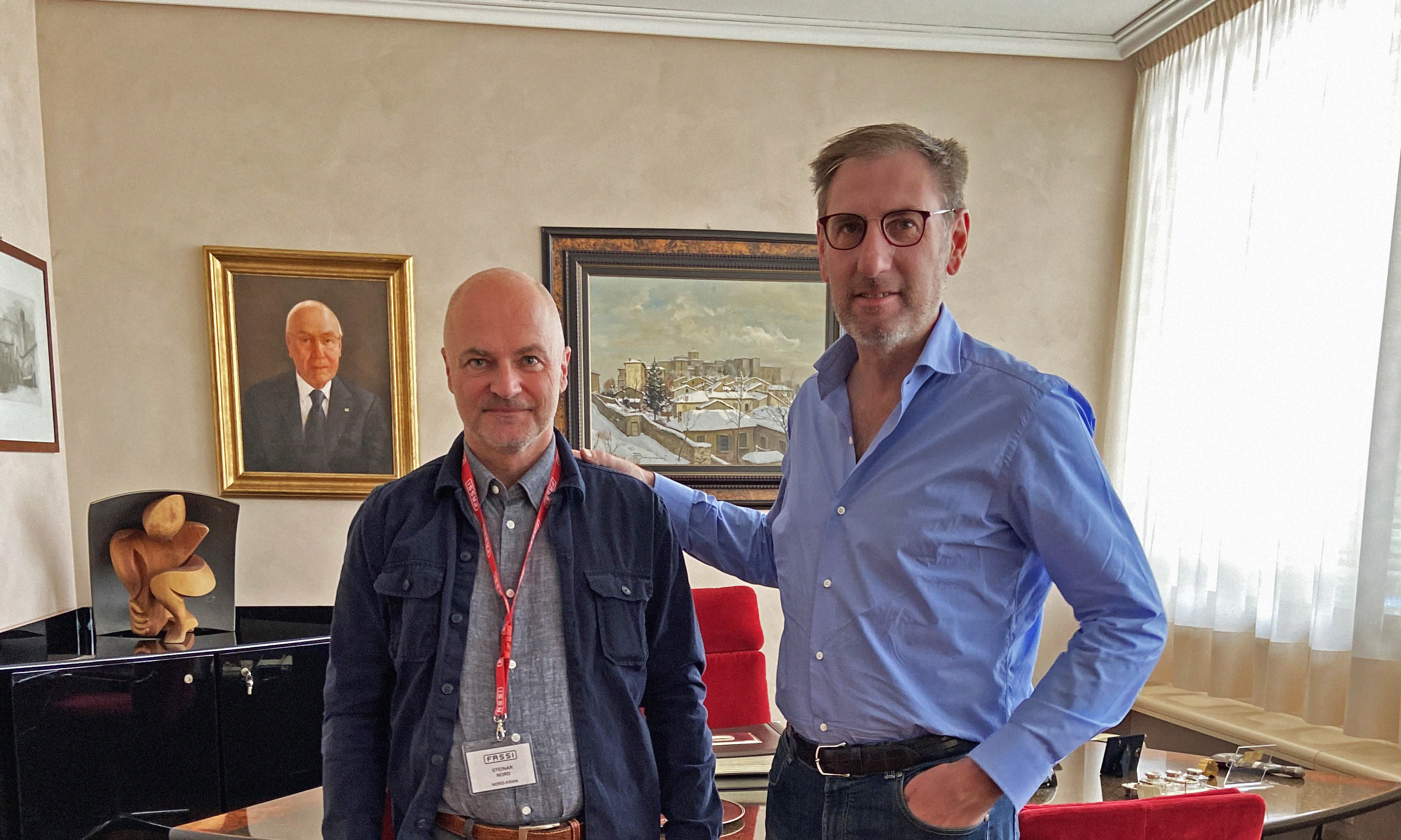 History binds Fassi to the Norwegian company Nord-Kran AS, which this year is celebrating its first 40 years of activity. It is an important anniversary, one that Giovanni Fassi, the chairman of Fassi Gru, and Steinar Nord, the president of Nord-Kran AS, have chosen to celebrate. Both belong to the second generation of their companies. Both have taken over from their fathers, building two companies united by values, openness, a focus on people and a sense of belonging.
Nord-Kran AS was founded in 1981 by Erik Nord, who had discovered Fassi in 1974, because that was the year he had sold his first Fassi crane. He set up his first office in a room in his home, explains his son Steinar Nord in this interview. Over the years the company grew, to become the official Fassi dealer for Norway in 1981.
40 years of activity with Fassi is an important milestone. What were the important moments in the growth of your company?
There is no one moment in particular. There are many. Undoubtedly the most important thing that has allowed us to grow over the years has been our focus on people and human relationships. We are and always have been a family. Both as Nord-Kran and in our relations with Fassi.
From the very beginning, both my father and I have felt part of a large family, and this is the strength behind our relationship.
Forty years on, what will be the next milestone? How is your company growing in today's competitive market?
We are growing well, above all thanks to the continuous work with Fassi and to our special client-oriented focus. We recently moved to new, larger and more attractive headquarters. We have grown in terms of innovation and technology, and we now have a workforce of 18 people. The next goal? This is more a personal goal. I would like to carry forward the story of Nord-Kran as a family company, and it will therefore be wonderful if my children take part.
When and why did your father begin working with Fassi?
Immediately. My father sold his first Fassi crane in 1974. It was an M4, sold in Oslo. I recently looked for it, because I wanted to buy it and bring it home, but it wasn't possible. In 1981 the relationship with Fassi was strengthened and we became the official dealer for Norway.
Fassi has always supported us, particularly in that period.
What are your strengths as a company?
Undoubtedly customer service. I grew up in the company, and a focus on client needs, demands and support has always been a central factor. In a market that is often challenging, two aspects are fundamental; know the product
and listen to people. We created our service in Nord-Kran AS by following these two guidelines.
What are Fassi's strengths as seen by the Norwegian lifting market?
The quality of the product, the attention to market demands, and innovation.
How are the technological characteristics of Fassi cranes received by the Norwegian market?
Very well, because Fassi is the leader in terms of innovation in the lifting sector, and from a point of view of new technologies, it is always at the forefront. The market has changed a lot over the last 10-15 years, and clients are now calling for more innovation than before.