Go to the blog
Apr 14 '22
Cranab has developed an all-new crane for Vimek Next Generation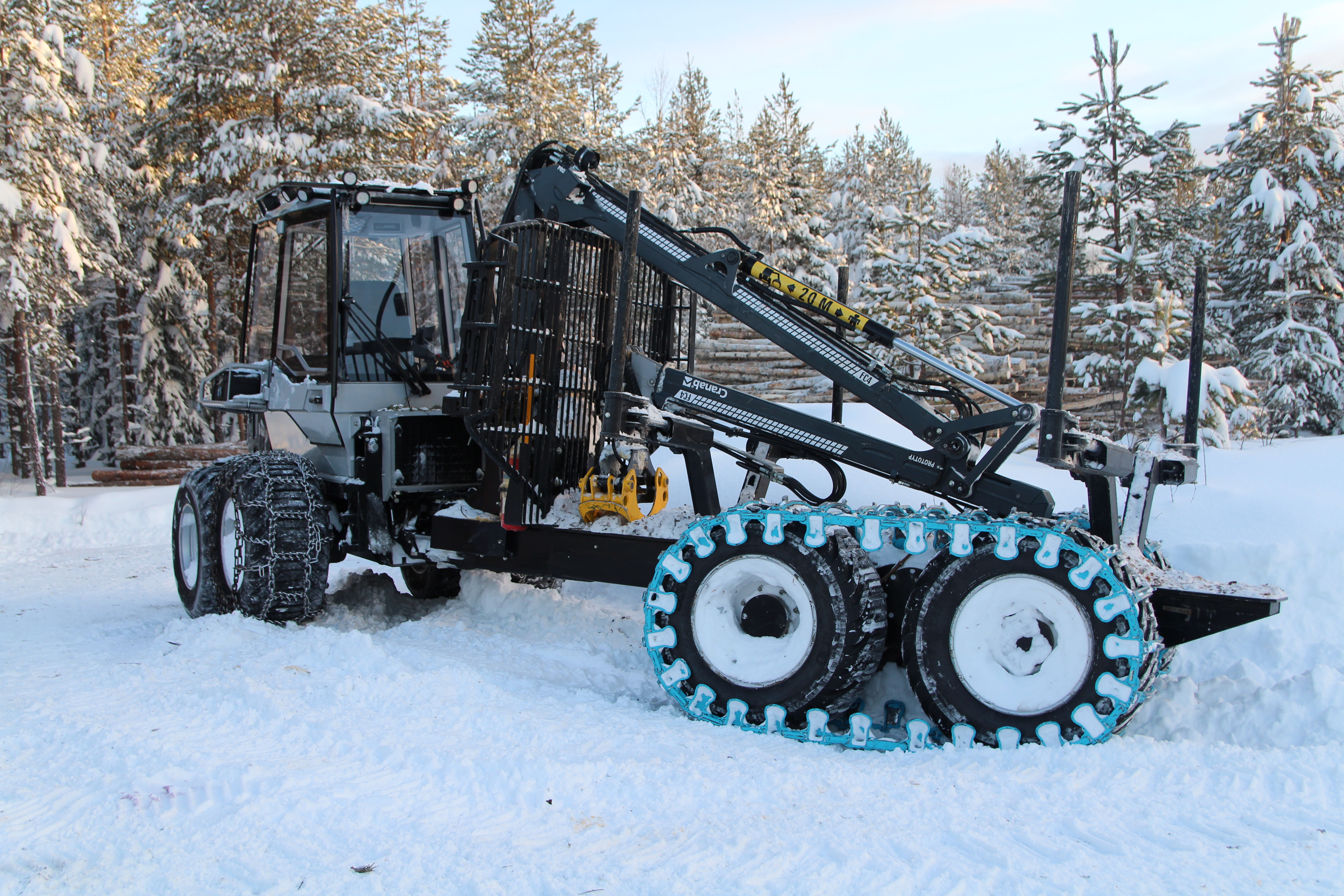 The new generation of cranes from Vimek is now on the market. A new range of cranes that focuses on sustainability, work environment, driving satisfaction and productivity. The new crane is the result of collaboration within the Cranab Group, between Vimek and Cranab. The crane's features and geometry are similar to Cranab's larger, more modern cranes, but the FC4 is a more compact design, specially developed for Vimek Next Generation. Anders Strömgren, CEO of Cranab, and Johannes Nilsson, CEO of Vimek, tell us in this interview about the details and "behind the scenes" development of this collaboration.
Anders Strömgren, CEO of Cranab
Cranab has provided Vimek with experience, products and innovation. How did this collaboration develop?
Vimek conducted a market and customer survey about what performance values and features were expected from the crane on its new
machine. Since there were no good matches on the market, Cranab developed a new forwarder crane for the compact class of forwarder.
How much of Cranab's experience and product design is there in this new crane for Vimek?
Cranab has been developing and producing cranes for forestry machines for more than 60 years. It's been a long time since we made a crane in the FC4 size, but we used all our experience from bigger models and its main design lines can be recognised from them.
Vimek is working on its new generation of products. Cranab also started its new product generation some time ago. What's its main features?
There are several. The main ones are a slewing drive, a crane column in casted housing with lubricated rack and pinion mechanism, accurate and reliable design that we have used with long-standing success, a welded column and booms. Our welding processes are certified to ISO 3834- 2 standard, providing smooth design and robust components; 4-point linkage between the main and outer booms ensures even lifting torque over the entire work area; hydraulic hose and pipe routing which provides good protection and lifetime of the lining components; boom tip with well protected hoses for minimal downtime and low maintenance needs; Cranab CR19 grapple.
The issue of environmental sustainability is increasingly central. How are you applying this within your work and machines?
Through different actions: recyclable raw material, for example steel; well-protected components that need less repairs and maintenance; hydraulic system design to reduce losses and save fuel for the machine. We take sustainability into consideration in general when developing and producing our products
Johannes Nilsson, CEO of Vimek
What are the main features of the new series crane model developed by Cranab?
It's a mini forwarder crane with a modern design including sensors tailor made for the compact class forwarder. It's a fast and light crane designed to make Vimek Next Generation forwarders efficient both in work and energy consumption. We use
the sensor data in our control system to achieve Smart Crane Control (SCC), a software solution that centres operator control in the position of the tooltip, not each hydraulic cylinder. SCC gives the operator more assistance from the machine and is helpful in sustaining higher production at less energy consumption.
What are the specific market needs for this kind of crane and which requirements does it meet?
Compact class forest machines like Vimek's have become popular for sustainable forestry. Since the thinning machines require less space, scrub be thinned with the utmost quality as no trees need to be cut down to make room for the machines. This means the best individual trunks can be saved to produce high quality forestland with high growth rates. As these machines are dimensioned to handle smaller trees and are designed to improve runtime in the transmission and work hydraulics, this machine is energy efficient with low diesel consumption per hour and per produced volume of wood. The main function of the compact class machines is thinning, but they are also used for other operations, such as clearing or collecting dead or dying trees in older forests, without needing to fell healthy, growing trees to get the machine in place. Therefore, the crane needs to be strong enough to lift what are often large logs and carry them up to road sites.
This new crane is part of Vimek Next Generation – a generation of machines that focus on sustainability, work environment, driving satisfaction and productivity. Can you tell us about the "Next Generation" project?
We are entering a new era where sustainable forestry will be one of the keys to defeating climate change and maintaining forest biodiversity. We need to be more accurate in how we carry out forestry activities, and the compact class machines can be useful tools for foresters to shape the forest as they wish, with minimal impact from the machine. Being a forester and operator of forestry machines is important
work and we must offer a good work environment to retain skilled staff who can enjoy their work and workplace, so that they stay in the industry for a long time and continue to develop forestry. There is always the economical aspect to consider, and production needs to be high in modern forestry to be comprehensive.
This crane is a concrete example of the collaboration with Cranab. How was this project built together?
From the start, Cranab designers have had full insight into project. We prefer to prioritise discussing what the crane's functions should achieve and the user experience over numbers. We introduced the working prototype into real work situations as fast as we could to collect feedback from operators. There have been several changes to the crane function during the project, but I would say we greatly benefitted from Cranab's extensive experience to make a prototype close to what we wanted first time.
The issue of environmental sustainability is increasingly central. How are you interpreting this within your work and machines?
The Vimek company benefits from the fact that our products have been shaped by the needs of Scandinavian families as forest owners and customers. Their focus in forestry has naturally been sustainability as forest ownership is handed down from generation to generation, with the purpose of deriving economic benefit from living off the land, while also using the forests for recreation, hunting and hiking. From this, we know our machines have the features for being sustainable models in several aspects and I would say it is the best practice for today. Now there is also a lot of current research into how forestry can help us deal with ongoing climate change and we are keeping our attention on how we can adapt our products to reflect this expertise.