Presented in bright green, the new crane-truck installation belonging to the German company Holzbau Dahm, specialists in timber construction, has allowed the company to be independent in managing its own activities.
An F1150RA on a Volvo FMX truck. Both are coloured in green, a bright and distinctive green. Holzbau Dahm, a German company that specialises in the construction of wooden structures, personally chose these colours with the clear objective of leaving a mark in its sector. Because the company has "satisfied all its needs" with a Fassi crane and a fitting of this quality, it had  "greater autonomy in supplying its own service in more varied situations," as Ralf Henk, CEO of Holzbau Dahm, explained.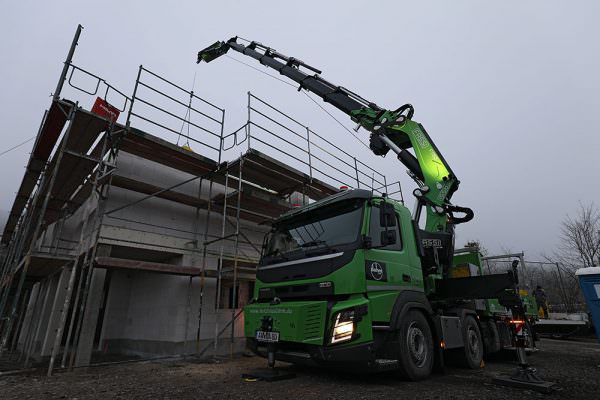 The crane was first rolled out last winter at the company headquarters in Niederdürenbach. The F1150RA has been installed on a particularly robust Volvo FMX truck, a configuration that will allow the company to cover the maximum amount of operations, from roofing, to monument maintenance and the construction of houses in timber.
Among all the works in which the crane was at the forefront during last winter, the company recalls the assembly of a roof on a single-family house with offices attached.  The crane had to lift the structure of the roof and all the necessary materials.