Go to the blog
May 14 '20
MPK06, a new minipicker for new building yard requirements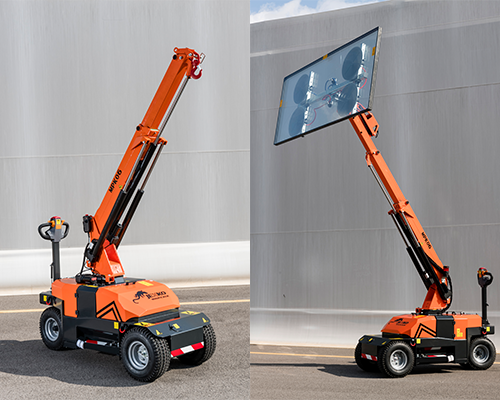 A small machine is a great help while working. This is the promise made by the new addition to the Jekko family: the MPK06 minipicker. This machine is compact and lightweight, yet it lifts up to 600 kg (1.322 lb) and serves the carpentry and industrial sectors.
 "The MPK06 model is going to set the pace in the world of work," maintains Alessio Forcolin, Italian sales agent at Jekko. "The requirements of building yards are evolving. Skilled labour isn't always available in the quantity required but in the meanwhile loads to be hoisted increase, no matter the sector, be it laying glazes, carpentry or industry in general. The market was waiting for this new concept of minipickers: compact, lightweight and deploying elevated lifting capacity, and Jekko has met the challenge."
DESIGNED TO OPERATE WITH EITHER HOOK OR MANIPULATOR
The MPK06 is the one and only minipicker that – in compliance with the EN13000 standards – has a dual operating mode, with a hook or a vacuum manipulator for laying glazes. Other unique features of this crane include the 360° continuous rotation of the manipulator and the 10° right-and-left electrical rotation of the turret, which moves the load to the sides, still maintaining its overall reduced size and enabling access to the most confined places.
100% ELECTRIC
The machine is 100% electrically powered, both during travel and arm operation. It is fitted with a 3kW motor powered by 2 x 12V-155Ah traction batteries for constant performance during use.
REMOVABLE COUNTERWEIGHT
The MPK06 is fitted with a simple system of modular and removable counterweights accounting for a total of 200 kg (441 lb). They can be removed whenever the machine has to be hoisted with a crane or moved in a lift, so its weight is brought down to as little as 720 kg (1.587 lb).