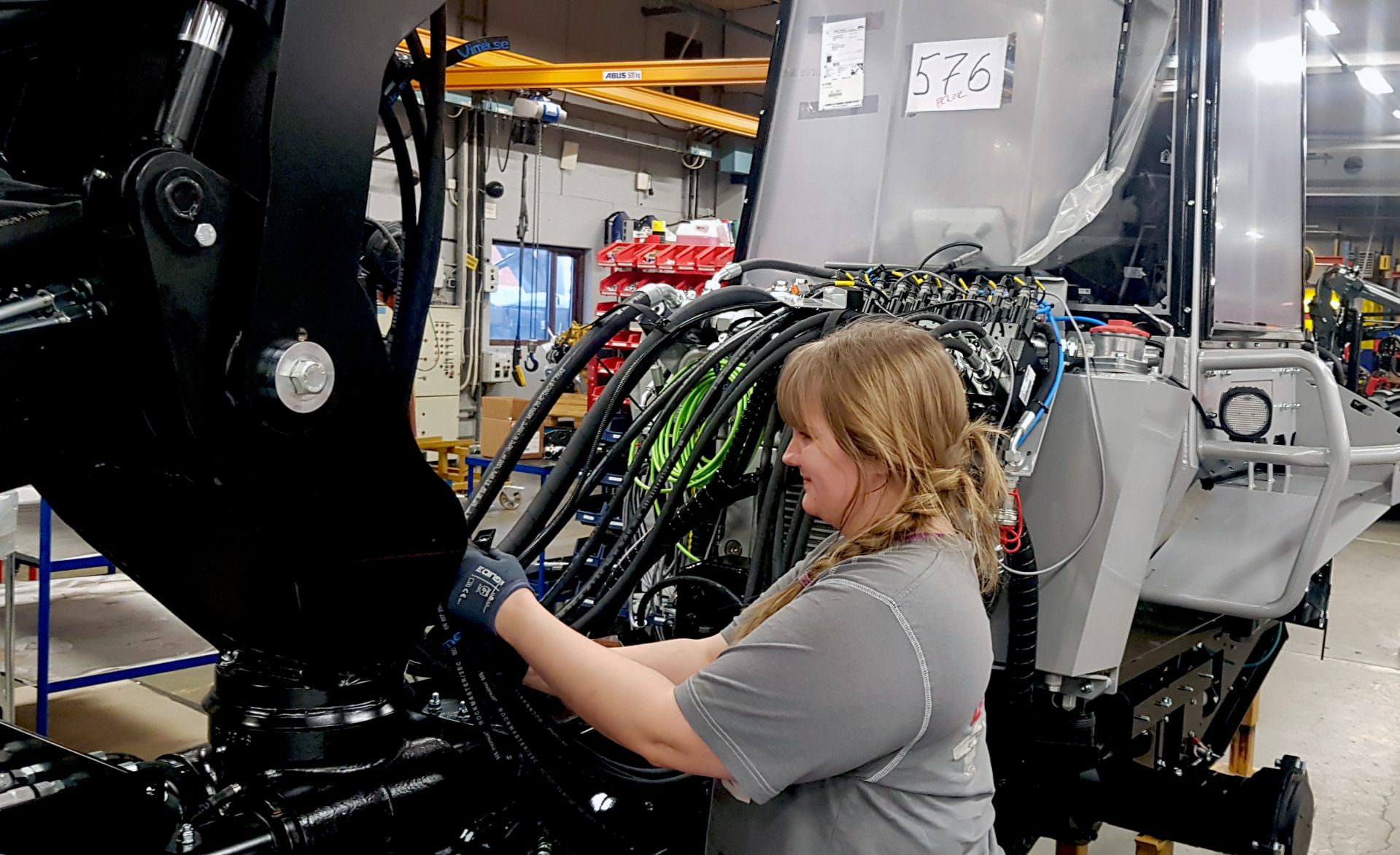 Our vision
Vimek specialises in the manufacture of compact forestry machines and wants to develop models that provide the best conditions for producing profitable clearing and first-time thinning logs. We believe an increased interest in mechanised forest management and bio-energy assortment in many areas can make a significant contribution to forest management that enables higher returns on future thinning.
The new concept of BIO-DUO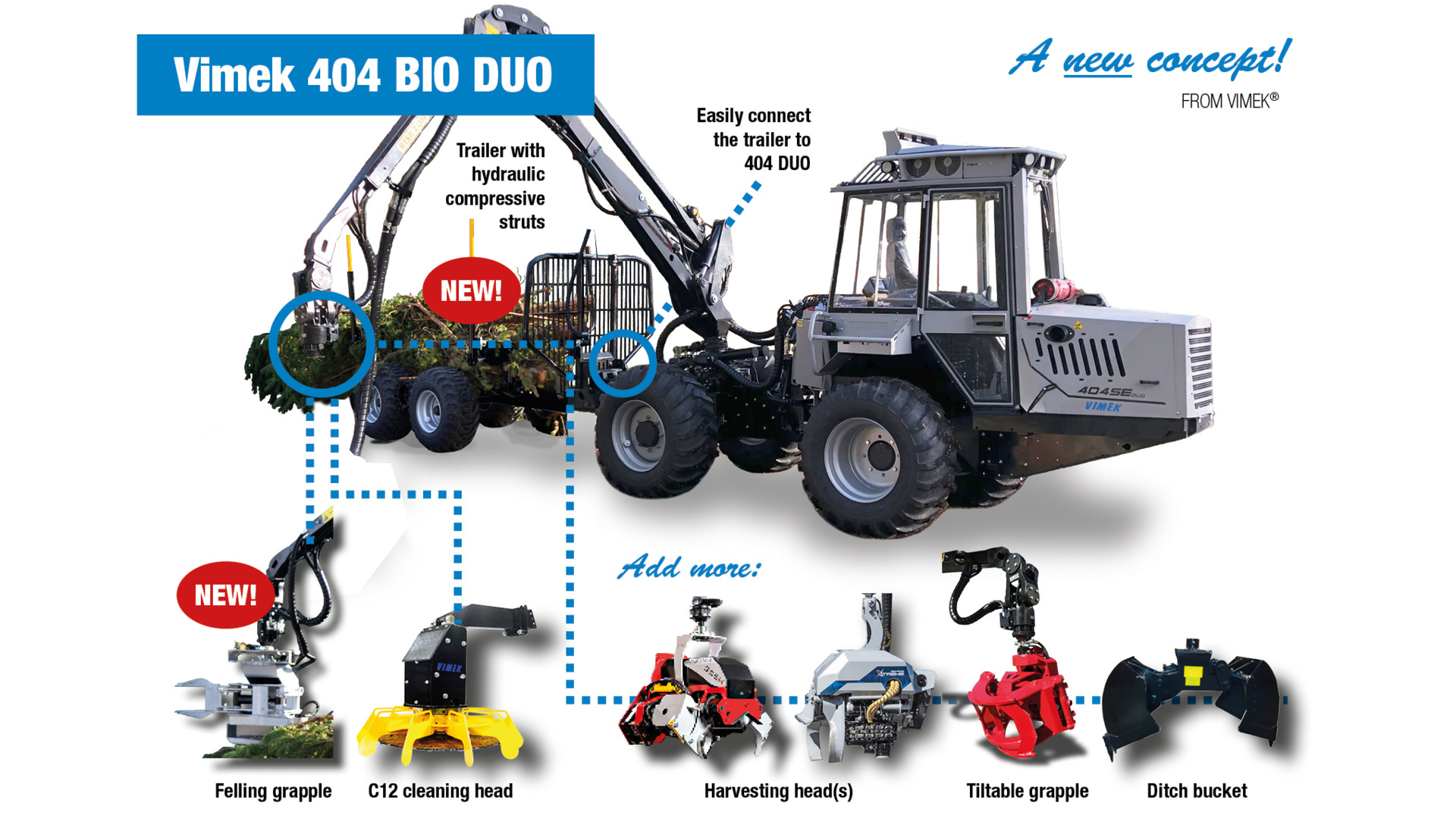 Vimek is expanding the use of the 404 DUO combination machine by producing a BIO package. This means that with this configuration you get a specialised machine for harvesting and chipping tree parts. In other words, it is a machine for extracting biofuel from the forest!
It is perhaps the market's most realistic alternative to machine clearing.
As conditions vary from log to log, as well as over time, we believe that the flexibility of adapting the machine to how the timber can be cleared most cost-effectively is a key success factor:
If there is no provision for energy consumption, or if the stems are too small, the stems are quickly cleared down with the Vimek C12 clearing head.
If you want to make biofuel withdrawals from a log, you can use the Vimek Bio-Duo package with multi-tree grapple saw as a clamp. Then simply attach to the trolley and scoop out the wood without changing tools.
When harvesting after a ditch or road, if there is an existing roadway you can have the trolley can be connected throughout and clamp on the trolley immediately. Then the machine becomes a driver instead of a combination machine.
Of course, you can attach a harvesting head for harvesting CTL before switching to a grip and attaching the trolley for scraping.
All in one machine!
BIO-package
Vimek has been collaborating with Svenska Hypro in Lönsboda for a long time in using the Hypro-manufactured felling grapple in combination with Vimek's multi-tree handling and machine control system, creating one of the market's fastest tree-section units. The saw has now received some additional updates, including the use of separate oil lubrication for the saw chain instead of grease and that the previous 5 cm³ saw-engine has been replaced with a 10 cm³ model.
We believe that this lightweight, yet effective, unit on the Vimek 404 DUO will provide a very high capacity for logging and that our customers for this machine will be given a valuable tool to further raise the quality of the remaining timber when road clearing and selective tree felling.
Vimek's hydraulic struts enable compression of bulky tree parts and thus increase the load capacity. Switching from a standard CTL harvester unit to a grapple saw takes a few minutes and you are ready to cut down tree parts. In a few minutes you have installed the driven trolley with compressive struts and can eject the material. In some cases, you can also let the trolley follow the harvesting stage and place the tree parts directly on the trolley.
Possible applications for the Vimek 404 BIO-DUO
Where the forest owner wants to clear a neglected trunk without taking major risks through wide roadways or heavy withdrawals. Biofuel withdrawals can contribute to the implementation of the measure and make the area more accessible.
In making urban forests, or other areas, more accessible to people and animals by removing decayed logs from the ground.
Removal of final felling with the withdrawal of branches and treetops. Vimek BIO-DUO can cost-efficiently cut undergrowth that typically slows down the finishing machine and prepare the area for final harvesting. The trees that are felled can either be taken out with the Vimek machine directly or can be put together to be taken out later together with branches and treetops from the final felling.
Forest roads, paths, trenches or similar where there is a lot of biomass and the trunks can be felled, split and loaded directly onto the trolley.
Weak chips where damage can occur if you use too heavy a machine.