Go to the blog
Dec 18 '19
Vimek and Nisula Forest initiates cooperation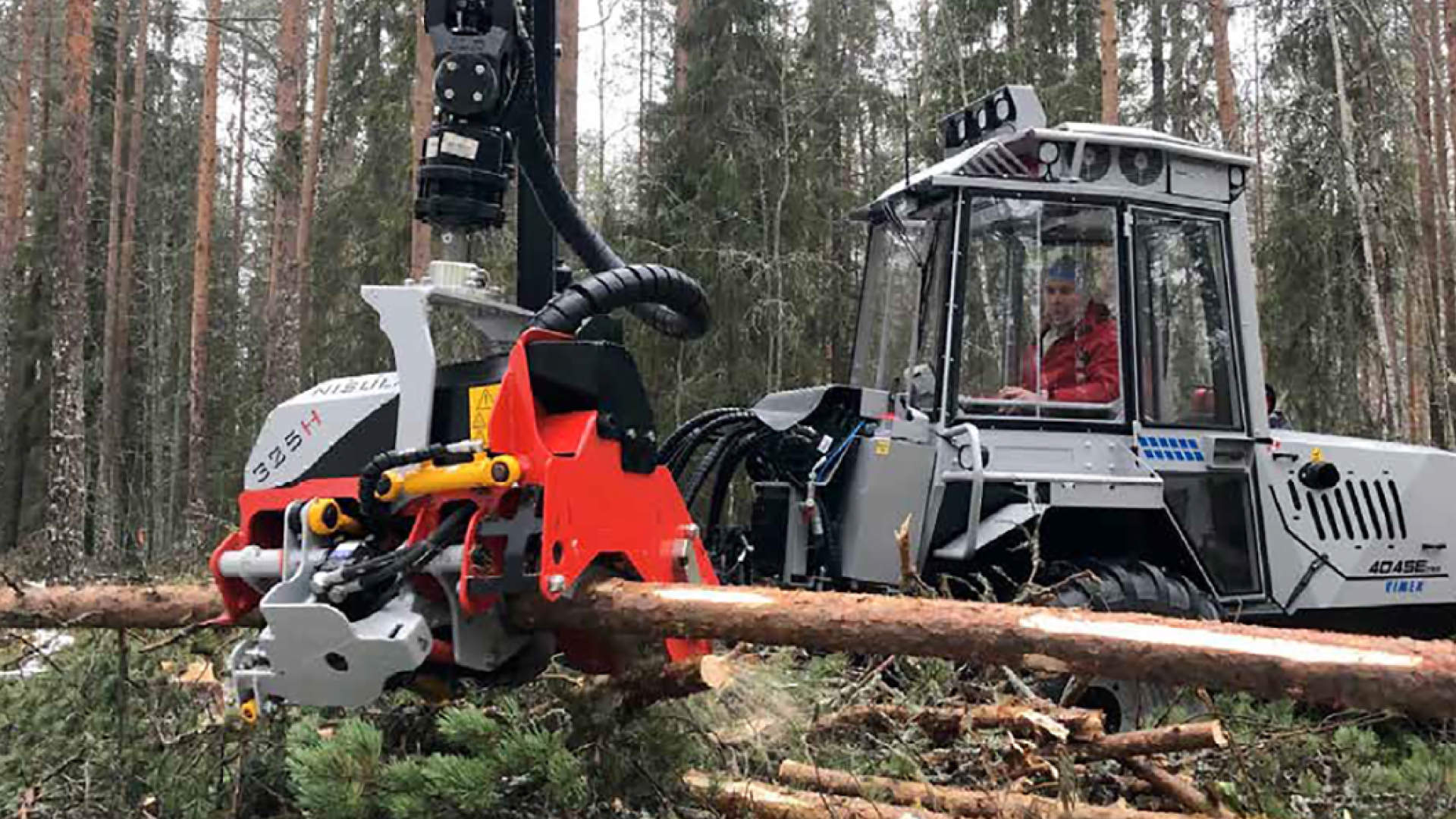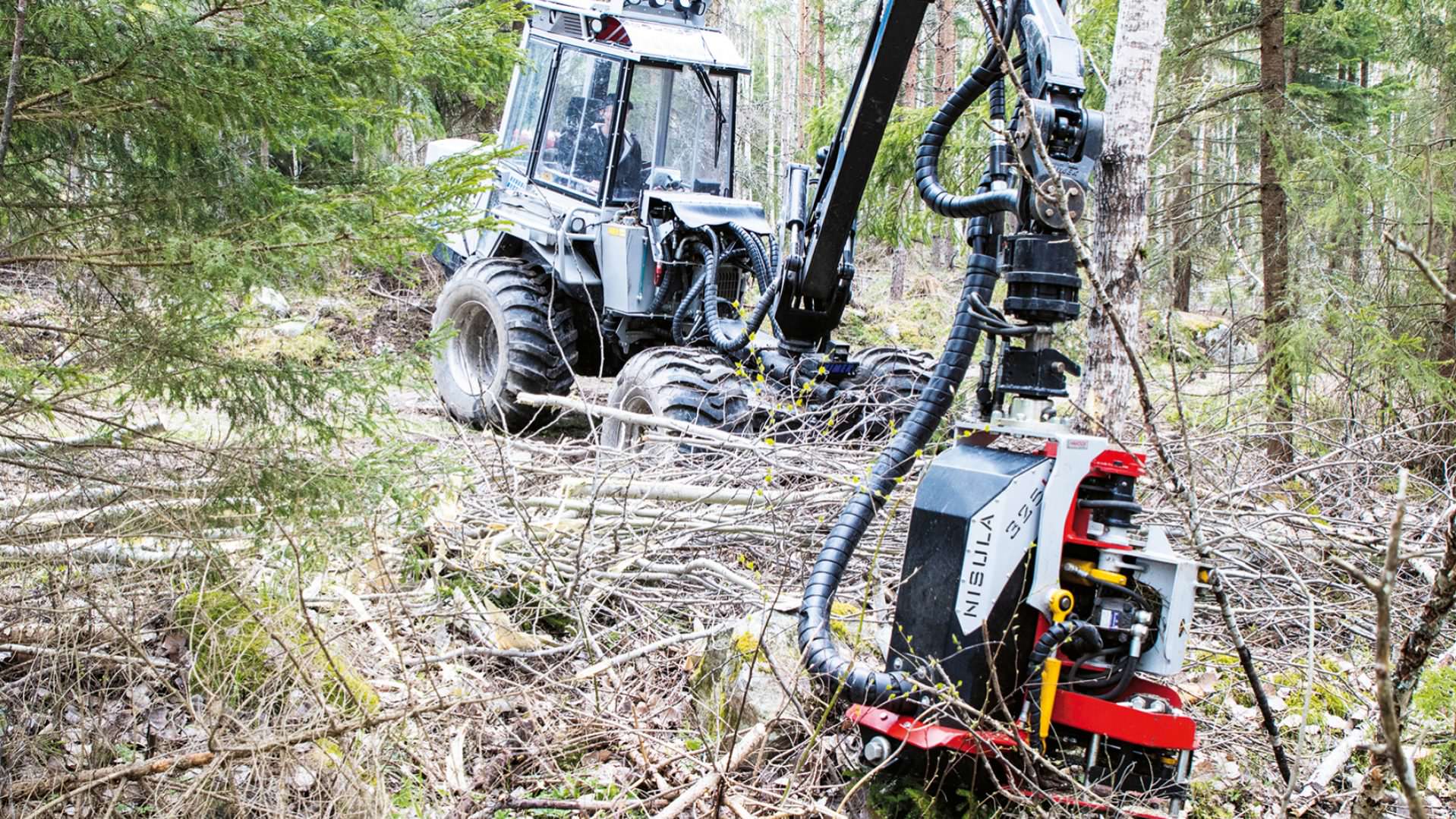 Vimek listened to their users and does from now on offer the Nisula 325H wheel-feed harvester head from Nisula Forest Oy as an option on the harvester VIMEK 404 SE and the combination machine VIMEK 404 DUO. In addition to the well-proven and tested standard harvesting head from Keto Harvester Oy.
– The two Finnish-manufactured heads have slightly different strengths and we are pleased to now be able to offer our customers more alternatives
says  Johan Johansson  at Vimek, who has tried both.
About Nisula Forest Oy 
The company, which was founded in 1978, is located in Jämsä Halli in Finland and specialises in the design, development and manufacture of thinning harvesters, harvester heads and biofuel aggregates as well as other forest machines and equipment.
We asked Nisula what they think they can add to Vimek
– Our Nisula harvester head has a simple structure and is easy to maintain. It is manufactured from high quality materials and components which guarantee good quality.
– The Nisula 325H head [Vimek's first wheel-fed harvester unit] is particularly suitable for a first thinning and processing sprigs of biomass. It is equipped with one fixed and three movable twig blades, which improve stock and help to make harvesting efficient and smooth,
says Kalle Mattsson at Nisula Forest Oy.
Nisula summarises
The unit is very easy to maintain. All lubrication points can be lubricated with the unit in the same position.
The unit has no longitudinal cylinder movement to minimise movement of the hose and thus the risk of hose damage.
The saw control and automatic chain tension improve efficiency and reduce the costs for saw chains and sawdust.
How Vimek did when evaluating Nisula 
– We started by testing Nisula's harvester head on a Vimek T6 for about 3000 hours and then we mounted it on a Vimek 404 SE harvester and got it compatible with the Dasa control system. We also hired two test pilots, who run our harvesters in their work and had to try out the harvester head for about a year.
says Johan Johansson, Vimek.
The test pilots were Magnus Tykosson from Hassela Skogsentreprenad AB and Erik Landby from Landby Forest AB. Magnus drove about 2500 hours and Erik Landby about 600 hours with Nisula's head.
They summarise their experiences of Nisula as follows:
The length and diameter measurements are good and safe.
Highly reliable and productive.
Lower operating costs due to wheel feed. The conveyor belt is wears easily and breaks.
Improved stock grip when felling. My Keto unit only had two knives [Magnus].
Does not pack snow.
Somewhat lighter than Keto.
Erik adds: Due to the wheel feed, Nisula pulls slightly less than Keto, but on the other hand has a higher feed rate and a good sawmill, which together makes it a faster head for the thinning we have up here in the north. In my opinion, Nisula's aggregate has a better overall economy in the first and second thinning. If, on the other hand, I was based in southern Sweden, with more coarse-grained forests, then a Keto unit with higher traction might probably fit better.
What's next 
After a thorough evaluation, Vimek can now release this news in good conscience. And for those who are planning to buy a Vimek harvester, just decide which harvester unit best suits your needs – Vimek has the options.